Financial independent advisor in Germany


FragFina provides expats with independent advice on all financial matters in English

We offer expats coming to Germany independent financial advice on all important insurance and financial topics and that in English.
Financial advice is essential to achieve one's economic goals and desires in life. Precisely because this topic is so important, financial advice is not just our everyday job but our passion.
As an independent advisor, we pursue a holistic consulting approach. It is particularly important to us that we advise according to objective, verifiable and scientific criteria. Transparency is a matter of course.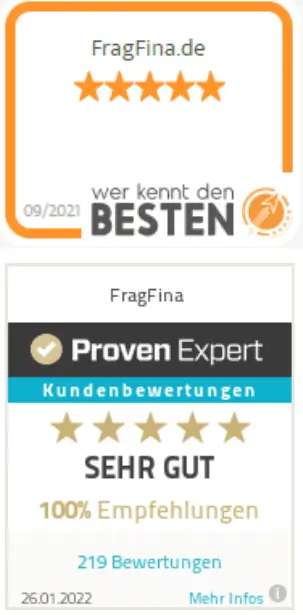 FragFina explained in 60 seconds
Independent
All our consultants are independent, because this is the only way to guarantee optimal support. There are no cooperations with product providers or their products.
Objective
Objectivity should be the basis of every consultation. Therefore we use external criteria such as the financial standard (DIN Norm 77230)
Transparent
Transparency is a prerequisite for a trustful cooperation. All our recommendations should be comprehensible and verifiable for you.
How our financial advisors in Germany for Expats work

Independent financial advice
Independence is particularly important in financial consulting. This is the only way to ensure that you receive the advice and products that are tailored to your individual situation and your goals and wishes.
That is why we act as financial brokers as well as insurance brokers. This means that we are independent of banks, insurance companies and building societies. By law we are obliged to represent your interests and not the interests of any company. All our consultants are free in the choice of products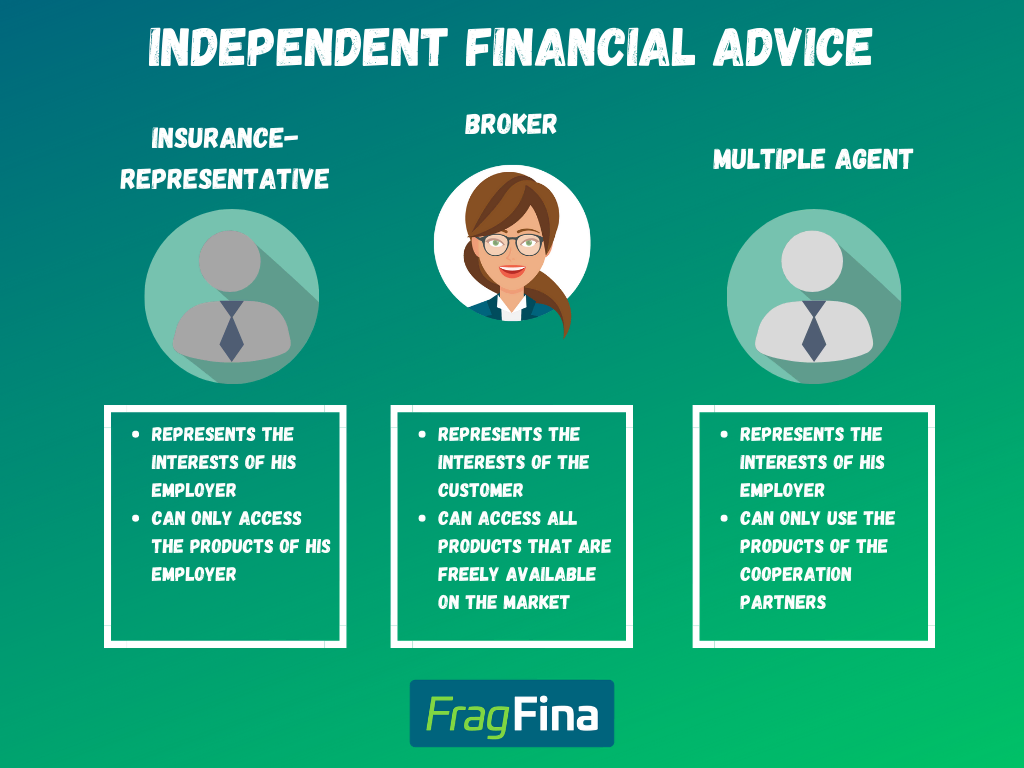 Consulting according to standards
In order to be able to provide objective advice, it is important to use external and scientifically tested criteria. In the analysis of the current financial situation we guarantee this with the financial standard (DIN Norm 77230).
The DIN Norm 77230 enables us to analyze your situation objectively, comparable to the large blood count at the doctor. The analysis according to DIN Norm 77230 is based on scientific criteria. Based on your goals and wishes, it gives recommendations for the optimal distribution of your liquidity.
Product selection
Objectivity is important not only in analysis and segment recommendation, but also in product selection in particular. For this reason, we use external criteria here.
We can analyze the entire financial market for you and check whether tariffs and products have the criteria you require. This gives you the security of always getting the best price-performance ratio.
This is the procedure

You have identified a need for consulting? Then you are welcome to send us an inquiry. The easiest way is to use the inquiry form. Alternatively, you can also send us an e-mail (expats@fragfina.de). One of our consultants will contact you as soon as possible and arrange an appointment with you to get to know each other.
2
Getting to know each other
The first step of cooperation is always a meeting. It lasts about 30 minutes. You have the opportunity to tell the consultant exactly what your expectations are and the consultant can tell you how he or she would approach your question. The introductory meeting is free of charge and should help you to get a better idea of our services. On this basis, you can then decide whether or not you would like to work with us.
If you decide to work with us on the basis of the introductory meeting, the next step is concrete consulting. The further course of action depends, of course, on what exactly your concern is.
What does a financial advice in Germany from FragFina cost?
Basically, you can choose with us about which type of costs you would like to be advised. We offer both fee-based and commission-based consulting. I.e. you can choose at the beginning of the consultation which system appeals to you more and decide on a variant.
The amount of the fee to be paid depends on your desire for consulting. The higher the consulting effort, the higher the fee. We can tell you the exact price after the introductory meeting, since the financial advisor can then estimate the exact scope of the consultation.
In our experience, the fee for most consulting requests is between 150€ and 450€ incl. VAT. In particularly extensive cases, the fee may be higher. To give you an idea of the costs involved, here are a few examples:
The following points are included as examples when a consultation on retirement planning is requested from us:
The current income situation is recorded Existing contracts as well as benefits from pension funds and the German pension insurance are determined.
Research into whether subsidies or grants are possible through supplementary pension funds or through the employer
Preparation of a comprehensive retirement provision analysis
Recommendations and concept for closing the pension gap
Price for the whole project is usually between 250€ - 450€.
The following points are included as examples when a request is made to us for investment advice:
Provision of basic knowledge about capital investments, financial markets and how they work
Provision of basic knowledge for the creation of your own portfolio
Determination of the personal risk profile
Development of an investment concept based on the personal risk profile
Such a project usually costs about 250€.
The following points are usually included when you contact us with the consulting request, how much property can I afford:
Recording and analysis of the actual financial situation
Sample calculation based on a sample property
Evaluation, which shows which purchase price and which rate is realistic
Such a project usually costs about 150 - 250€.
Our fee-based consulting is usually on a project basis. That is, we do not usually offer hourly billing. This has the advantage that you know right from the start what costs you will incur.
Here you can find more information about the costs of financial consulting.
Where does financial counseling for expats take place?
Our financial advice for expats takes place online. This means that you can receive advice from your financial advisor from the comfort of your own home.
As a rule, we use Microsoft Teams as the platform for this.
We can currently only offer on-site financial consulting for expats in Munich. We are working on making this possible in other cities as well.
Frequently asked questions about financial advice
Do our advisors speak English?
Yes, all our advisors who take care of the financial issues of the expats speak English.
What training do our advisors have?
Our consultants have different academic backgrounds, from business economists to lawyers to engineers, everything is represented.
In addition, each consultant has completed the IHK training as an insurance specialist § 34d GewO and attended numerous internal training courses and workshops.
Our consultants are DEFINO-certified specialists for private financial analysis according to DIN 77230.
In the area of financial investment, each consultant has completed the IHK training as a financial investment specialist according to § 34f GewO. Our consultants use a professional liability umbrella in accordance with § 32 KWG (German Banking Act) in order to be able to offer you all possibilities in the field of financial investments.
Are our advisors free to choose products?
All our consultants act as brokers (independent insurance brokers) and are therefore not bound to any products of providers. The broker has the free choice from all products offered on the market (with the exception of products that are exclusively brokered by providers). In addition, the insurance broker is even legally obliged to protect the interests of the customer against the product providers (e.g. banks or insurance companies). An insurance broker does not have a contract with an insurance company, but works on behalf of the client. So you can be sure that our advisors choose the products that best suit you and your goals and wishes.
Is consulting on a fee basis possible?
If you wish, consulting on a fee basis is also possible (fee-based consulting). You are welcome to discuss this with your advisor during the first meeting. In contrast to the more widespread commission-based consulting, we have the option to provide consulting on a fee basis for you. In this case, a fee is agreed upon in advance, based either on a payment per hour or a payment for a project (e.g. project closing the pension gap). In the case of fee-based consulting, so-called net rates are used.
What are the consulting focal points of our consultants?
Occupational disability
Retirement planning (Riester, Rürup, pension insurance)
Retirement planning
Company pension plans (direct insurance, pension fund, pension fund, support fund, pension commitment)
Financial investment (funds, ETF, shares, savings plan, one-time investment, call money)
Health (statutory health insurance, private health insurance, supplementary dental insurance, inpatient supplement, outpatient supplement, international health insurance)
Construction financing (loan financing, building savings)
Property insurance (liability insurance, household insurance, legal protection insurance, residential building insurance)
For whom is the consultation suitable?
The consultation is suitable for all expats living in Germany.